If you are looking for articles about New York Comicon 2022- Back to the Chaos and Clues Read here!. Don't hesitate to read articles about New York Comicon 2022- Back to the Chaos and Clues RAW Free until end.
Wow, New York Comicon 2022. Just Wow.
To think that we were just in a state where COVID-19 prevented much gatherings back at New York Comicon. In 2021, it was smaller but a safer gathering with moments of fun and surprises. Now in 2022, they really brought in the star power. Though be it a little close for comfort for some of the guest announcements nearing October 6-9, like Bones and Angel's David Boreanaz. Personally don't like how Reedpop was pushing to sell more Thursday tickets, but I argue it was indeed one of the best opening days this year. If  I can sum up how New York Comicon 2022 was, it would be that nerd chaos had returned with insanity and a side of wholesomeness. Naturally, there are some rough spots with any convention that needs to be addressed, but for the majority of the time, I enjoyed myself.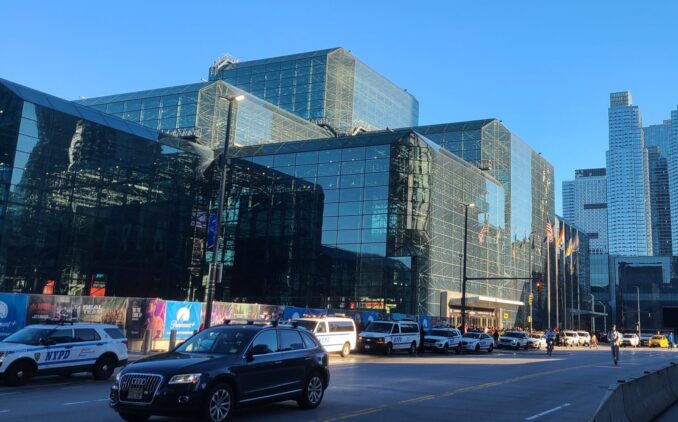 The Mask Deal
So how has Reedpop changed in regard to safety and COVID policies? Last year they had a site just a block away to check and verify attendees' vaccine status. They did not do that here. All Reedpop did was put a statement that all attendees had to wear a mask while attending the event. Did people listen? About 60%. There were obviously people who did not have a mask at all while walking the floors. Even though the staff literally had a box of masks to give out, I see them nearly full. Did Reedpop reinforce its own mask policy? Not really. The only exception was for those attending the Main Stage Panels where staff said to put on masks while entering. Obviously, you cannot order everyone to wear a mask. It is just not possible with the ratio of staff and attendees. Plus I don't expect staff to basically police con-goers in wearing a mask. It would be tyrannical.  But from wherever I walked the floors, many were not following the mask policy from Reedpop. Outside of the food court and bathrooms, many people didn't care.
I say this. Fine. You don't want to wear a mask for COVID? Fine. But how about the common cold then? I have seen maskless attendees who were online waiting for an autograph and sneezed heavily without covering their mouths. Are basic manners really that hard when sneezing? Use your sleeve at the very least or turn away from a nearby person when possible. It really irks me how people can really forget basic mannerisms. Yes, fans were there to have fun, but don't forget to at least have some form of courtesy. You can read more from our boss's take here.
Anime Bump, Nostalgia, and The Clues
For a convention called New York Comicon, they were leaning more on the anime side of things. Especially for this year when the badges were all anime shows and for once NOT The Walking Dead. Yes, it is finally dying out now. With that show not being the main spotlight, it has allowed other shows to be of focus. Such as The Winchesters, the Halloween Ends movie, and The Midnight Club. There were also great reunions such as the Back to The Future reunion with Christopher Loyd and Michael J Fox. As well as a reunion of Smallville casts with Tom Welling, John Glover, and others. Great for fans who have grown up with these shows. Plus the massive success of Critical Role and seeing the entire cast on stage is nothing short of magical. Hearing the news they have been green-lit for season 3  just lit the critter's excitement at that moment.
On the anime/animation side, there was a lot to focus on. Namely a big push for the One Piece Red film, Bleach Thousand Year War, and Chainsaw Man. Of course, one of the biggest events to open up the show on Thursday was the initial reveal trailer for the Super Mario Bros. Movie. After so much speculation, we finally get to see and hear Jack Black's Bowser and Chris Pratt's Mario. Including a special appearance from Jack Black on the Empire stage and detailing a bit of his role as well as noting that there will be a part of him singing a musical in the film. Naturally, Chirs Pratt's performance got a lot of mixed to negative impressions of his Mario delivery. You can hear my impressions on the recent episode of the Nintendo Entertainment Podcast here.
I was able to check out Bleach: Thousand Year Blood War and Chainsaw Man panels, and expectations were surpassed, to say the least. For those who have read the Chainsaw Man manga, you know how crazy and macabre it can be. Speaking as a newbie, I had no idea what to expect. But after seeing that first episode, with the insanity, devils, and gore, it is an insane but enjoyable experience. It was after this episode that I immediately binged through the manga. Not for the faint of heart, so viewer/reader discretion is advised. We also got to hear from the English cast for Chainsaw Man and how they were picked for their roles. For Bleach, it was like coming back to an old friend. It has been so many years since it ended its first run originally. Now coming back to wrap up the series in animated form is just nostalgia. Whatever your thoughts on the series and how the original manga ended, you at least must see how it ends in animation. Especially for those who grew up with the original show back in the early 2000s. Plus there was a nice cosplay contest before airing the 1st episode with Stella Chu and King Vader. I also met voice actors Cristina Vee and David Lodge in terms of autographs on the show floor, which is always a nice experience.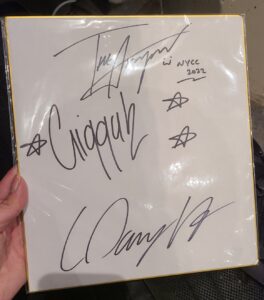 Also to note, there was some Youtubers/Twitch streamer representation as well. I was aware that Babish Cooking made an appearance in which the cosplayed Kratos from the recent God of War. Funny as the major sponsors for the show was Santa Monica's God of War Ragnarok, Bleach, and other shows from Netflix. Personally, for me, I was excited to see Trash Taste of Connor "CDawgVA", Garnt '"Gigguk", and Joey 'The Anime Man". Even though their show was on a Thursday, reservations for seatings went fast as well with autograph signings. I didn't get a reservation for the autograph, but thankfully they allowed for standby attendees who weren't fast enough. Meeting them was an honor and just hearing them talk in their panel, you can tell they had love and respect for the community. The panel mostly revolved around the three's recent achievements. With Joey's venture of opening his own clothing brand. Garnt with being recently married and doing sponsored streams from anime publishers like Kadokawa to stream anime legally to show to his viewers. And Connor's recent cycle-a-ton charity fundraiser for the Immune Deficiency foundation. There was also a Q&A session in which I did ask Connor in regards to Zentreya and Apex. Also at the same time, they were also on a tour that Saturday night and going all over the United States with the Trash Taste Tour. Without spoiling too much, it is a funny and great show and you will discover some things about your city. All I can say is New Yorkers, you disgust me with your Hentai Tag preference. If they stop by your city, consider attending their show.
While Trash Taste and meeting the three was a great highlight, there was another man I wanted to meet since childhood. No, not Brendan Fraser. Though it is great to see him going through another renaissance of recognition. It is the original host of Blues Clues, Steve Burns. A man that has helped raise generations alongside greats like Fred Rogers, Levar Burton, and other great children's show hosts.  To say that he had an effect on generations of kids is an understatement. If you remember his last episode on Blues Clues, you would be crying and wondering why he left. Yes, he said he was off to college, but that was it. No chance of him coming back and leaving us with his in-show brother Joe. It was only years later he revealed it was because he was balding and felt it wouldn't feel right for a children's show host to be bald. You were wrong good sir! When he came back and gave a message in celebration of Blue's Clues 25th anniversary on why he left and how proud he was of those who watched him now grown up, it broke the internet. So to know he was coming to New York Comicon, many and I cannot pass up this opportunity.
At first, he was only going to appear on Saturday. But he then opens up Friday to allow more opportunities for Photo Ops and Autographs. A tip: Set or reschedule for an earlier time if meeting celebrities for autographs or photo ops. Cause there were hundreds of people wanting to meet him. I met him on Saturday for both a photo op and an autograph. The photo op went fairly well the only problem is the usual NYCC staff makes it quick with no prep time with the guest. He held on to my handy dandy notebook for the photo op and it was just amazing. Though I feel my expression could've been better.  Then I met him again to have him sign my photo. The crowd was immense and the line for him was insane. Even if you bought a prepaid autograph ticket online, many who didn't were on the line. You could tell he was exhausted. Even seeing him take a small break to eat. However, he still held his humble spirit when I met him and gave him respect and thanks for all he has done. It ended with me taking a selfie with him and saying to him that I can't wait for the upcoming Blue's Clues movie. This will be a memory I will forever cherish. If you ever get a chance to meet your childhood hero who has helped you grow, by all means, take it.
Support Your Favorite Artists, Toss Some Coin
As always Artist alley is always a place to stop by for amazing art pieces. I always stop by  and support my favorite artists from prior years and be on the lookout for new ones I've yet to meet, but follow them on Twitter. The two artists that I always visit again are "IronPinky" Edwin Huang and Hammling of Hammling productions. One new artist I met was particularly to me being a fan of VShojo and when KSON and Nazuna debuted. This artist is Phib "Phibonnachee".
If you know Edwin Huang, then you know of his contributions to UDON Entertainment, CollectPCS, and the Street Fighter/fighting game community in general. His art has a unique style of personality, flair, sexiness, and cool factor. You can see much of his artwork under UDON with Street Fighter and Darkstalkers artbooks, comics as well as premium Street Fighter figurines at PCS. Not much needs to be said about his work as it pretty much does all the talking. If his style strikes your fancy and he is in your artist alley, by all means, stop by and consider buying something from him. Even if you forget that you bought same prints from prior conventions.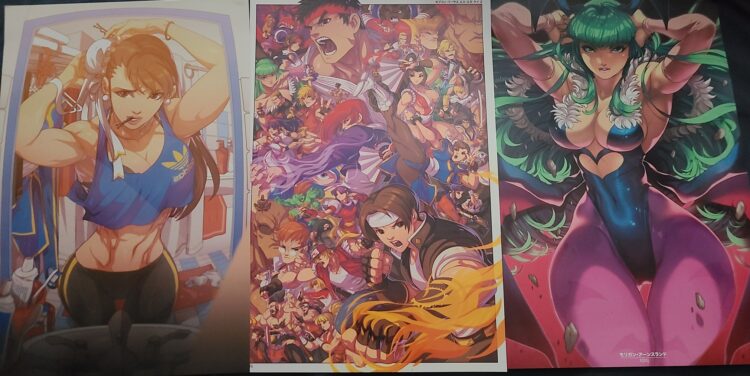 Hammling I have had the pleasure to meet many times now. He is an artist that just nails that watercolor art style that is present in his works as well as his co-published comic with David Monkey and Peach. You can view his work @mandpcomic. He recently made three new pieces for Chainsaw Man of Denji, Makima, and Aki.  He was even blessed by the voice actor of Aki, Regan Murdock, having signed his Aki piece as he had commissioned Hammling to make a print for him at conventions. Hammling also made new art in regards to Eldin Ring. Malenia and Ranni which you can see below. Stop by if he appears in your Artist Alley as his work is top-notch and just an overall awesome guy.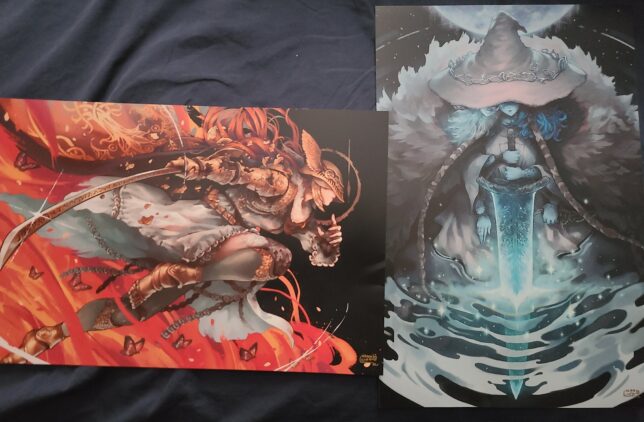 When VShojo was made, I was an immediate fan of the girls and the overall spirit they had in the company and in the VTuber sphere. When KSON and Nazuna were revealed to be the newest addition to VShojo, the excitement was comparable to a Smash Bros. reveal trailer. Phib's artwork was featured in their debut and Vshojo product to celebrate.  The interesting detail when finding him was that he wasn't in Artist Alley. Rather he was part of the main show floor. He was located in the back near the right side of the show floor by the Genshin Impact booth. He even had his banner of Bubi and Ironmouse, which were signed by Connor "CDawgVA" back at Anime Expo. He even had his newest artwork of Mori Calliope of Hololive doing the Killer Queen pose of Jojo's Bizzare Adventure. Yes, this is a Jojo reference. He even had a grip strength test for those who make a purchase. This is to test if your grip is as strong as Hololive's Amane Kanata 50kg grip. If you pass 50kg, you get a free sticker. I was only half of that. Passing above the average of most other Vtubers. All I can say is that Kanata has earned the nickname:  "Gorilla". So if you are a fan of Vshojo, definitely stop by, follow, and buy something from Phib.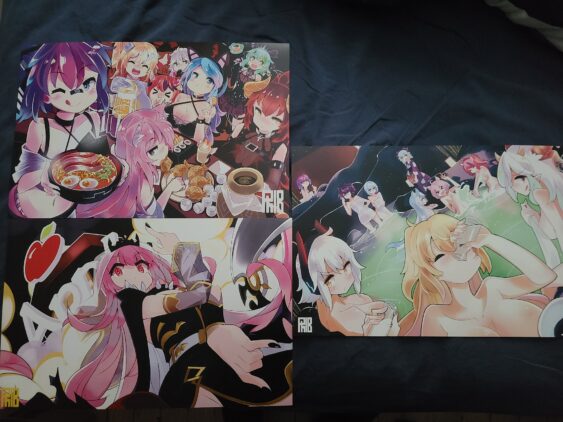 A Return to Form
As I mentioned in the beginning, Thursday I argue was the biggest and best opening for NYCC to date. They had the Mario movie reveal, Critical Role, and meeting Trash Taste and their panel. And then meeting Steve Burns and seeing anime showings of Chainsaw Man and Bleach were just amazing. Again, to think that COVID shut down conventions before. But now it seems that is finally coming back to life. Though still be careful to not get sick from COVID or Con-flu as we are heading into the winter season. Whether you are a fan of anime, comics, or video games, NYCC has got you covered. Though that is to be said of conventions. But the same needs to be said in regards. Make a plan. Stick to it as much as you can. Budget yourself. Bring your own food and hydrate. Also, bring deodorant. ReedPop, you did well. Here is hoping you iron out the kinks regarding your online queue system and invest in servers. If invest a bit more in anime and manga, it may go back to the days of Anime Fest NYC. Course the question will remain: Is it better than Anime NYC this year? I will decide when I attend on November 18. Though it does have competition with Hajime Isayama, creator of Attack on Titan making an appearance alongside musical guests and industry veterans.
But for now, New York Comicon 2022 was a great experience. Here is hoping that it improves and gains another great round of stars and voice actors. Until next year New York Comicon! Onwards to Anime NYC!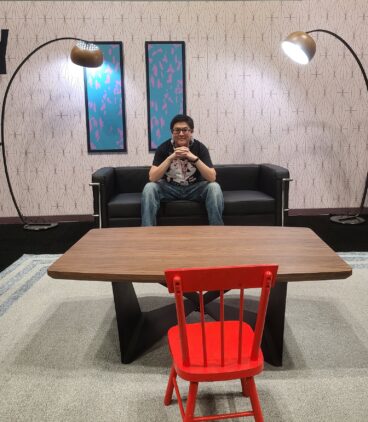 Before You Go: